Product name:Portable 12 paddles lipo laser machine for sale/lipo laser machine liposuction lipolaser zerona laser
This lipolaser uses dual wavelength 650nm and 980nm diode laser,with 12 pads.Each big lipolaser pads,each 24 diodes,four small pads,each 4 diodes,total 208 diodes.Each pad half 650nm diodes,half 980nm diodes.
650 nm & 980 nm dual wavelength
Japanese "Mitsubishi" laser diode
12 pads, 8 big 4 small, total 208 diodes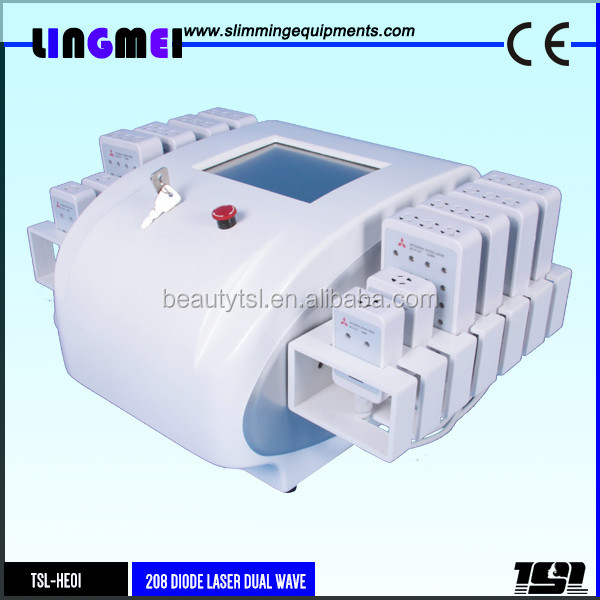 Lipolaser zerona laser machine:
650nm Lipo Laser uses a clinically-proven technique which stimulates the body's natural response to fat-burning using low-level laser energy, targeting particular areas of the body where excess fat has built up.
uses red light 650nm or invisible 980nmlaser energy to penetrate the skin,when the fat cells are simulated,the cell membrane will create the pores to release fatty acids and glycerol.
Feedback shows,with exercise or the infrared therapy,the fat cells will be burnt or drained by the lymph circulation.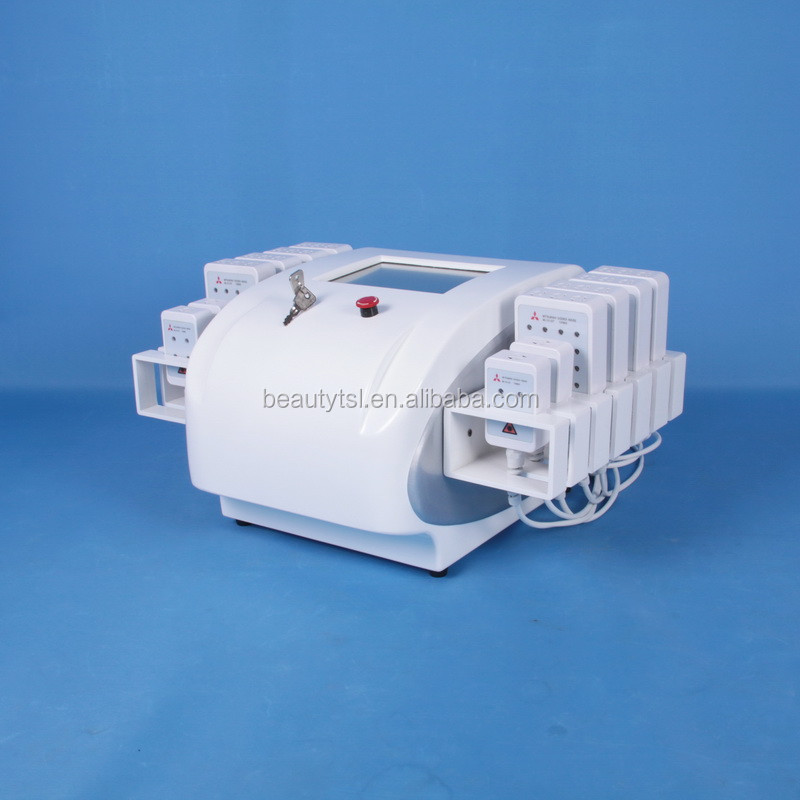 1.Big and small lipolaser pads ,the large enough pad will treat more area each time.
2.Japan Mitsubishi diodes ML101J27 inside
3.Much more effective laser energy with 130mw-350mw( pulsing)
4.Pulsing mode with changeable frequency
5.Long lifetime with 8000-10000 hours from Mitsubishi data sheet
6.Smart operation screen,automatically set the treatment data for different treatment area,neck,back,abdomen,arms and legs.
7.Positive feedback for the fast and effective fat reduction..
8. Each pad has 3 fans,cooling system with fans and copper cylinder,keep working for 10 hours.
Japan Mitubish Diodes Features:
1.High power,high efficient AlGalnP semiconductor laser
2.Provide a stable,single transverse mode oscillation
3.Continue wave power:130mW,pulse power( the high out put power) 350mW
4.High efficiency:0.95W/A
5.Safe diode laser:Class II
6.Long life time:the diodes can work 8000-10000h
Treatment features of zerona laser:

1. Each pad can work alone, and individually adjust the intensity to facilitate accurate treatment.
2. Humanized operation interface, easier to operate.
3. 12 set of hand tools, can be used to treat different parts or different people at the same time.
4. Mitsubishi laser diodes, each for 130-350mw, creating a new technical standard of Lipo Laser.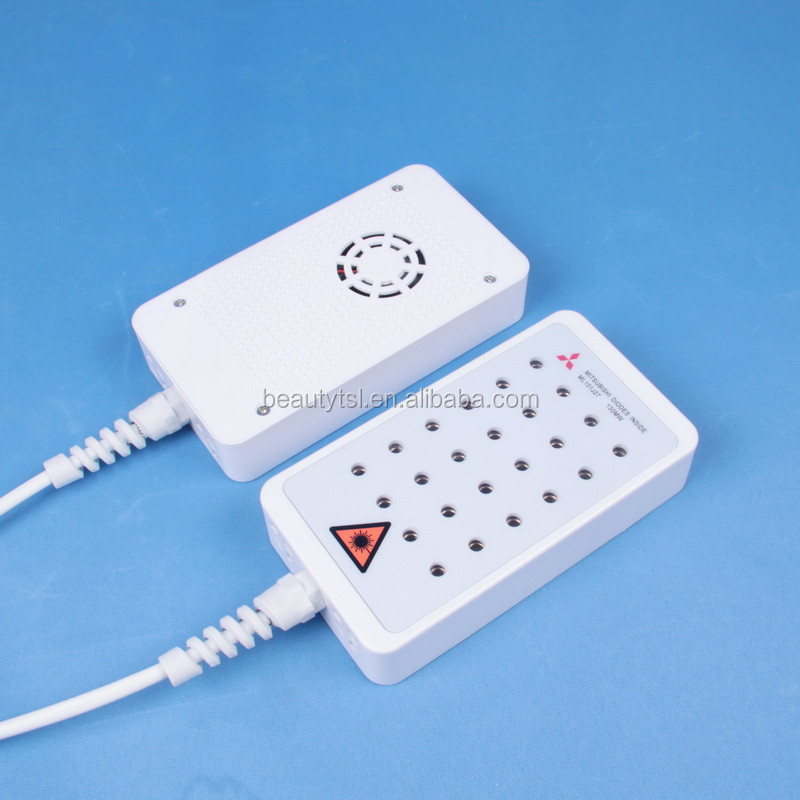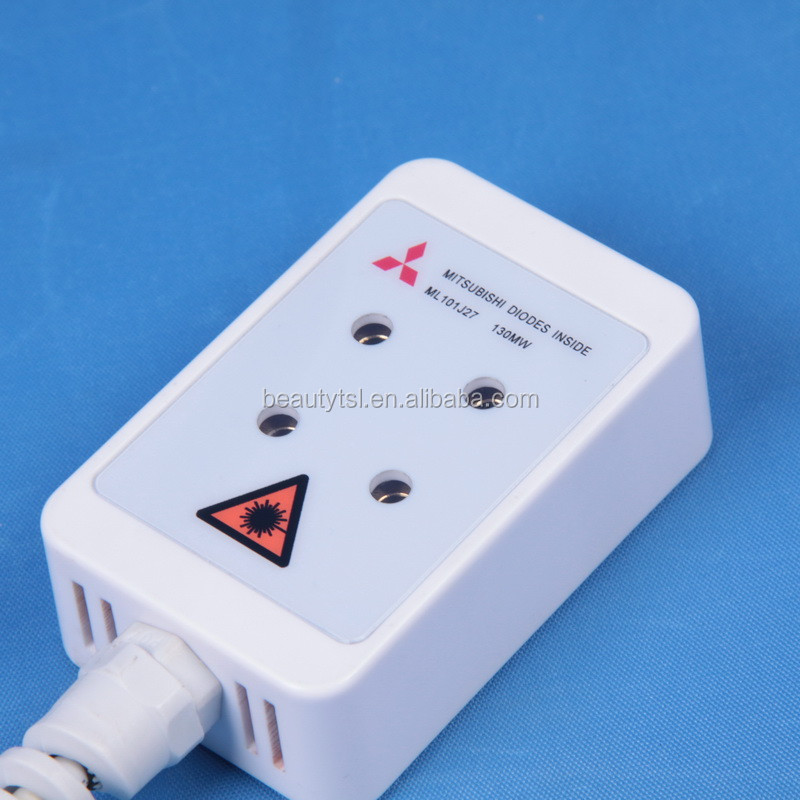 12 months real treatment on the market shows lipolaser has achieved comparable results by liposuction,30%
reduction in the fat layer depth after just one treatment.Additional treatments improve results further. Immediate results can be seen after each treatment as the fat cell contents are released.

Feed back shows lipolaser has been successful to reduce 3-4cm after just one treatment,some get better 6-8cm,the best one is 12cm fat reduction.
Wavelength

650nm and 980nm, dual wave length zerona laser


Energy Output

Mix 208x 130mW , Max 208x350mw

Voltage

220v or 110v/50Hz-60Hz

Diode laser type

Mitsubishi ML101J27

Safety

On Board Diagnostics

Classification

Electrical Class 1, Type B applied part

Pads

12pcs ; 8 big pads with 192pcs laser lamps,

4 small ones pads with 16pcs laser lamps

Total diodes

208pcs

Fuse

5A

Mode of Operation

Continuous and pulse

Ingress Rating

IPXO

Environmental requirements

10°C to 40°C Non-condensing Humidities Below 75%RH

Cooling requirements

Air cooled

Maximum Output Power

100VA

NW./GW

23/25KG

CE

CE WITH LVD AND EMC

Touch screen

8' touch screen

Spec.

60*41*48cm
1. Is lipolaser safe for liposuction?
Lipolaser uses low levels of laser light to create a safe and painless bio-stimulation effect in the targeted
fat tissue.
So Lipolaser does not produce any abnormal effects in the body or damage body tissue .
The treatment can be performed on all skin types and body areas where unwanted fat is stored and you can
return to normal activity immediately after treatment.
2.How many treatments it needs for the lipolaser treatment?
It is recommended that total 8-12 treatments as a full session,but with only 8 treatment,the results will be
good enough.
3.Any side effect for the lipolaser treatment?
After the treatment,the target area skin will become redness,but it normal,will disappear within one week.